My Shopping Cart
Qty
Item
Total
$0.00
CANE-IAC is Verified
Safe & Secure
Follow CANE-IAC on Twitter ~

Learn

about new & sale items and receive special offers
-
click here

SALE ~ SALE ~ SALE ~ SALE ~ SALE ~ SALE ~ SALE ~ SALE ~ SALE
20% OFF ALL CLEARANCE & CLOSEOUT ITEMS
No Code Needed, Sale applies to all items in our Clearance & Overstock Department.
Don't wait, supplies are limited.

Click

HERE

to view items.

We take pride in offering you speedy and discreet shipping.

All of the products offered are in stock and ready to be shipped.

We generally ship all orders within 48 hours of your order being verified and payment received.

We ship most orders to the United States via USPS Priority Mail and delivery in the United States is usually within 3-4 business days. Select items such as wooden paddles may have an additional handling charge in the range of $.50 to $1.00 due to the weight of the items. We do everything we can to keep our shipping costs reasonable and at a minimum.
Shipping and handling charges are generally on postal zones in the United States. The following chart will show you approximately in which zone your state is located. (Since postal zones are based on zip code, you may find that you are in a different zone.)
Order Subtotal

USA

Canada

International

Zone 1

Zone 2

Zone 3

Priority

Priority **

$0.00 - $10.00

$6.50

$31.50

$42.00-$46.00

$10.01 - $20.00

$7.25

$8.75

$10.00

$31.50

$42.00-$46.00

$20.01 - $40.00

$7.75

$10.00

$12.00

$32.50

$44.00-$48.00

$40.01 - $60.00

$8.50

$11.50

$14.00

$34.00

$46.00-$51.00

$60.01 - $80.00

$9.00

$13.00

$16.00

$37.00

$49.00-$55.00

$80.01 - $100.00

$9.50

$15.00

$18.00

$39.00

$51.00-$60.00

$100.01 - $150.00

$10.00

$17.00

$21.00

$41.00

$53.00-$64.00

$150.01 and Above

$11.00

$19.00

$25.00

$45.00

$57.00-$70.00
Zone 1

Zone 2

Zone 3

Connecticut

Delaware

District of Columbia

Maine

Maryland

Massachusetts

New Hampshire

New Jersey

New York

Rhode Island

West Virginia

Alabama

Florida

Georgia

Indiana

Iowa

Kentucky

Michigan

Minnesota

Mississippi

North Carolina

Ohio

South Carolina

Tennessee

Wisconsin

Alaska

Arkansas

California

Colorado

Hawaii

Idaho

Illinois

Kansas

Louisiana

Missouri

Montana

Nebraska

Nevada

New Mexico

North Dakota

Oklahoma

Oregon

South Dakota

Texas

Utah

Washington

Wyoming
Next Day or Two Day Delivery: If available to your zip code, we also offer Express Mail Delivery to US residence. If you would like a quote for the United States Postal Service's Express Mail Service, please email us at [email protected] for rates.
**International Orders:
At the present time we ship internationally to the following countries: Canada, United Kingdom, Australia, Belgium, Costa Rica, Czech Republic, Denmark, France, Germany, Greece, Hong Kong, Hungary, Ireland, Israel, Italy, Japan, Mexico, Netherlands, New Caledonia, New Zealand, Norway, Poland, Portugal, Slovak Republic, Singapore, Spain, Sweden, Switzerland and Thailand. Shipping costs vary depending on destination.
We offer Priority Mail for International shipping. With Priority Mail, the post office estimates your order will be delivered in two to three weeks, but that is not guaranteed.
Unfortunately we cannot be responsible for orders that could be lost or seized by customs officials. We do ship ALL orders discreetly and always put the most discreet description on the custom forms, but we will not lie. Most packages will simply state it is Novelty Canes and or Paddles. We cannot give a refund for orders not returned to us.
We ship our International Orders "DDU", "duties and taxes unpaid" and we do not collect the VAT, duties and or taxes and we have no way of estimating the amount of these "fees" in your country. If you do experience these additional charges, they must be paid by you in order for your package to clear customs in your country.
If you have questions regarding your country's custom policies, please contact your local customs office.
Discreet Packaging:
Your order will be shipped totally discreet. The packaging, depending on the items, will either be a simple tube, cardboard box or US priority mail box. The return address for all package is our PO Box and our parent company name. We value and respect your privacy as much as we do ours.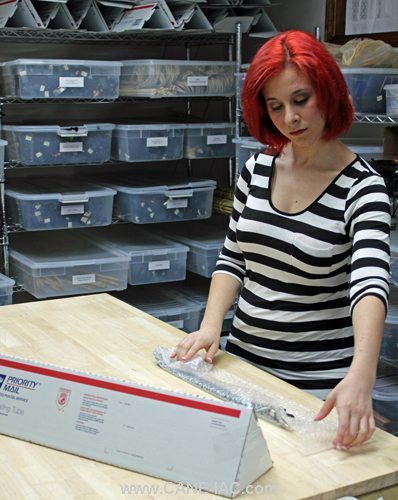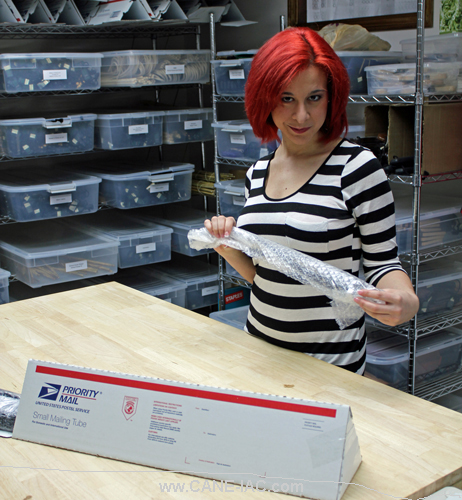 We were pleased to have Sarah Gregory help out with the day's packing and shipping. The triangle box is the one we use for 95% of all shipping. 100% Discreet.
All Items Are 100% Satisfaction Guaranteed.
Totally DISCREET Packaging
Copyright 2016 ~ All Rights Reserved