My Shopping Cart
Qty
Item
Total
$0.00
CANE-IAC is Verified
Safe & Secure
Follow CANE-IAC on Twitter ~

Learn

about new & sale items and receive special offers
-
click here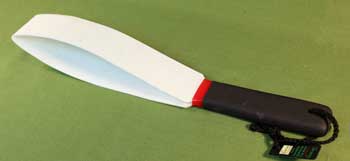 Move 'em on, Head 'em out, RAWHIDE. You reach into your "toy" bag as your bottom awaits, and as you take out Rawhide, trust us you will be singing, Rollin' Rollin' Rollin' and before long your bottom will be Screamin' Screamin' Screamin'. Rawhide is just that, 100% natural Rawhide. It is 16" long and 2" wide.
The secret is soaking it before use. Incredible Hellish Sting. An awesome price at

ONLY $24.99
---
The Zebrawood Extreme OTK Paddle is an impressive 18" long, 2" wide and 7/8" thick, yes
almost a full inch thick. This paddle is finished with multiple coats of polyurethane. Zebrawood is heavy and durable and features wonderful grain and every one is unique and different. It has the Red Line, red leather safety wrist cord.
God save the "Bottom's Bottom".

You can't beat the price

ONLY $27.99
---
This is a gr
eat OTK item. It sat for months on the Cane Master's workbench while he perfected it

. The overall length is 16" the two leather circles are 4" and held together with one single rivet. The 1/4" Delrin rod
makes the Paddywhack flex just enough to enhance the sting.
Yes
you can even leave gorgeous round circles on your bottoms bottom. A great price at

ONLY $24.99
---
We have tried and tested many leather and wood conditioners over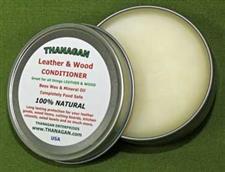 the years and Thanagan's Leather Conditioner is in our opinion the best. Great for use on
an
ything leather or wood, Leather Straps, Raw Wood Paddles, Cutting Boards, Bowls, R
ol
ling Pins and Kitchen Utensils. Yes this one conditioner will do it all. It is even great for Bambo
o.
The penetrating quality of the mineral oil
along with the water resistant traits of beeswax rejuvenates the leather or wood and keeps it from drying out and cracking.
Click photo or HERE to view.
ONLY $8.99
---
---
Terra is Cane-Iac's
Queen of Self Spanking and we are pleased to offer you a chance to email her and ask her SPANKING related questions. She can answer questions on many of our implements, spanking positions, self spanking, spanking others, self bondage, wax play and just about anything spanking related. Keep it clean and respectful and enjoy this great resource. To ASK TERRA click HERE.
Ms. Dana Kane hails from Las Vegas and is a professional disciplinarian. She specializes in traditional OTK bare-hand spanking, close-contact implements, discipline/punishment, behavior modification and intense role-play. She has a very fond affinity for the cane.

OUCH
Dana has been very nice to supply us with Product Reviews and TIPS for TOPS videos. These short clips are a great way to enhance your spanking knowledge and learn a bit about some of our implements. To view all the videos Dana has done for us click here.
Learn more about Ms. Dana Kane here.
Dana's latest Product Reviews.


click to view




More of Dana's Product Reviews and TIPS for TOPS found

HERE
Visit Ms. Kane, if you dare, by clicking banner.
--------------------------------------------------------------------------------
All items are 100% Satisfaction Guaranteed or full refund.
Totally DISCREET Packaging

Copyright 2016 ~ All Rights Reserved