My Shopping Cart
Qty
Item
Total
$0.00
CANE-IAC is Verified
Safe & Secure
Follow CANE-IAC on Twitter ~

Learn

about new & sale items and receive special offers
-
click here

Hi, I'm Sasha Stryker and I am a recent college graduate with a B.A. in Psychology.

I currently work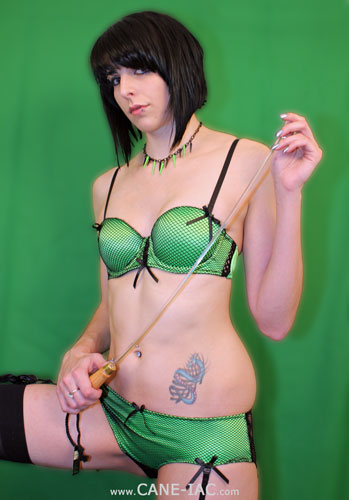 with the developmentally disabled, and am preparing to pursue my Master's in

Psychiatric Nursing.

I enjoy 80s punk rock to post-hardcore, new age rock and everything in between, Mexican food, writing poetry, kickboxing and indulging in my bo
dy art and piercing addiction.

I am no str
anger to the fetish community.

For the past five years, I have frequen
ted goth/fetish clubs and participated in a number of events in the scene – more often than not, on-stage spanking shows.

I personally identify as a sadomasochistic switch – I like to dish it out, but I can certainly take it too – so I mix it up depending on my mood.

My toy of choice is a riding crop.

It's a swift, concentrated pain that takes no great amount of pressure to make a woman (or man) scream.

My favorite toy to be spanked with?

Flogger, hands down.

It is, in my opinion, the most v
ersatile toy – it can provide quick, sharp pain or repetitive, lingering pain, and the leather extensions conform to the body to deliver maximum skin contact with each strike.

There's a certain sensuality to it. The pain-pleasure paradox is addicting.

CANE-IAC is very excited and proud to have Sasha Stryker as a friend and model.

Click on the photo to view the item and see more photos of Sasha.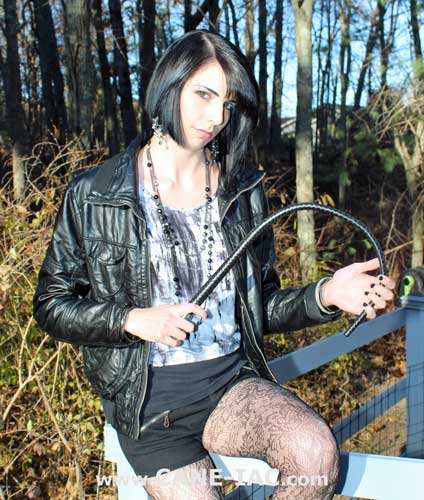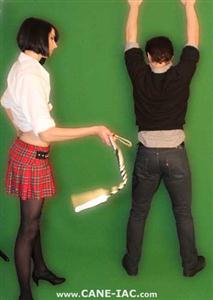 Sjambok Zebra Flogger Whip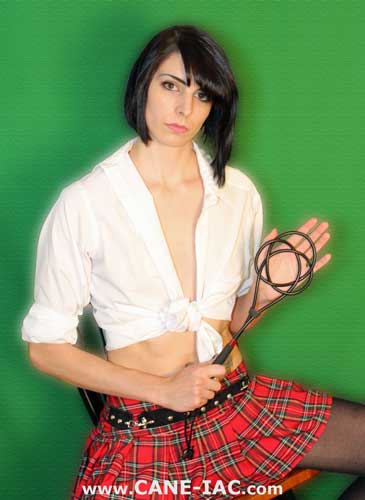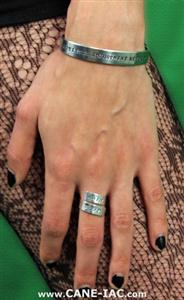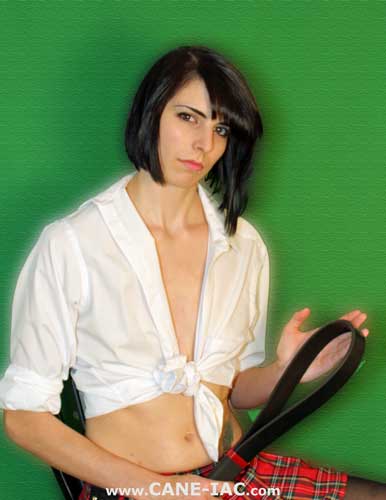 Delrin Crazy Loop Jewelry Gator Loop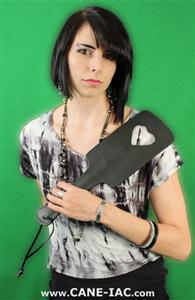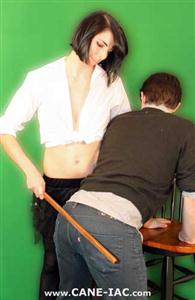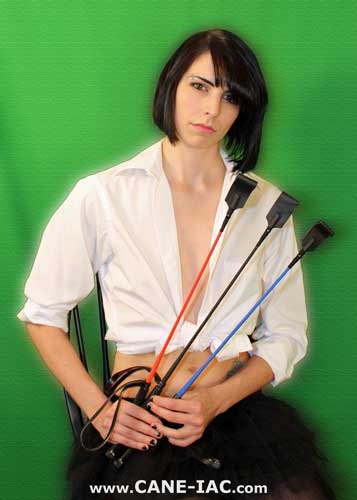 Heart Cutout Paddle Walnut Lightening Bolt Riding Crops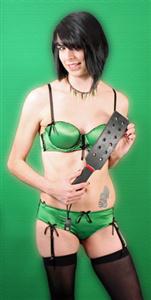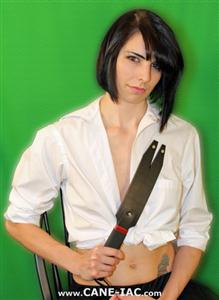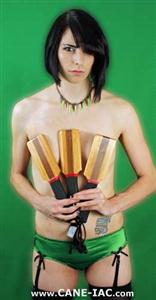 Truro Terror The Viper Leather Strap Walnut Striped Bottom Burner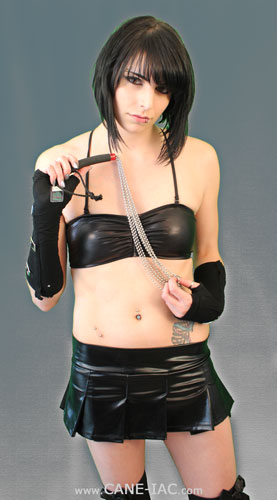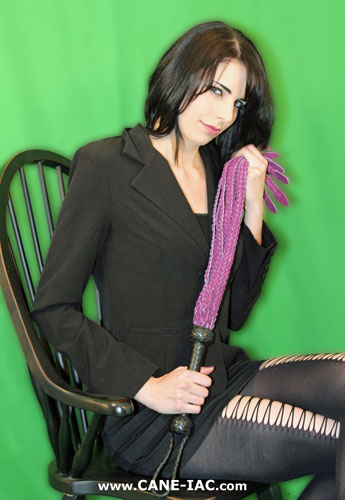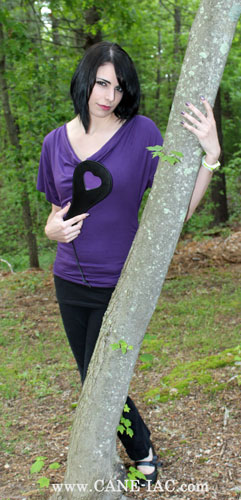 Ball Chain Flogger Purple Braided Flogger Heart Leather Paddle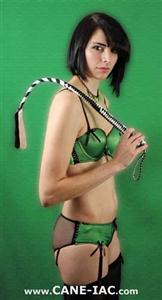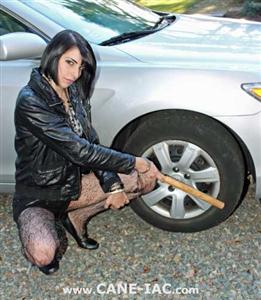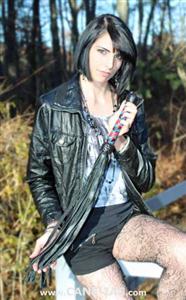 Zebra Flogger Whip

Tire Knocker

Red, Blue Black Flogger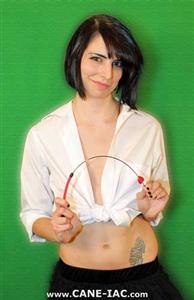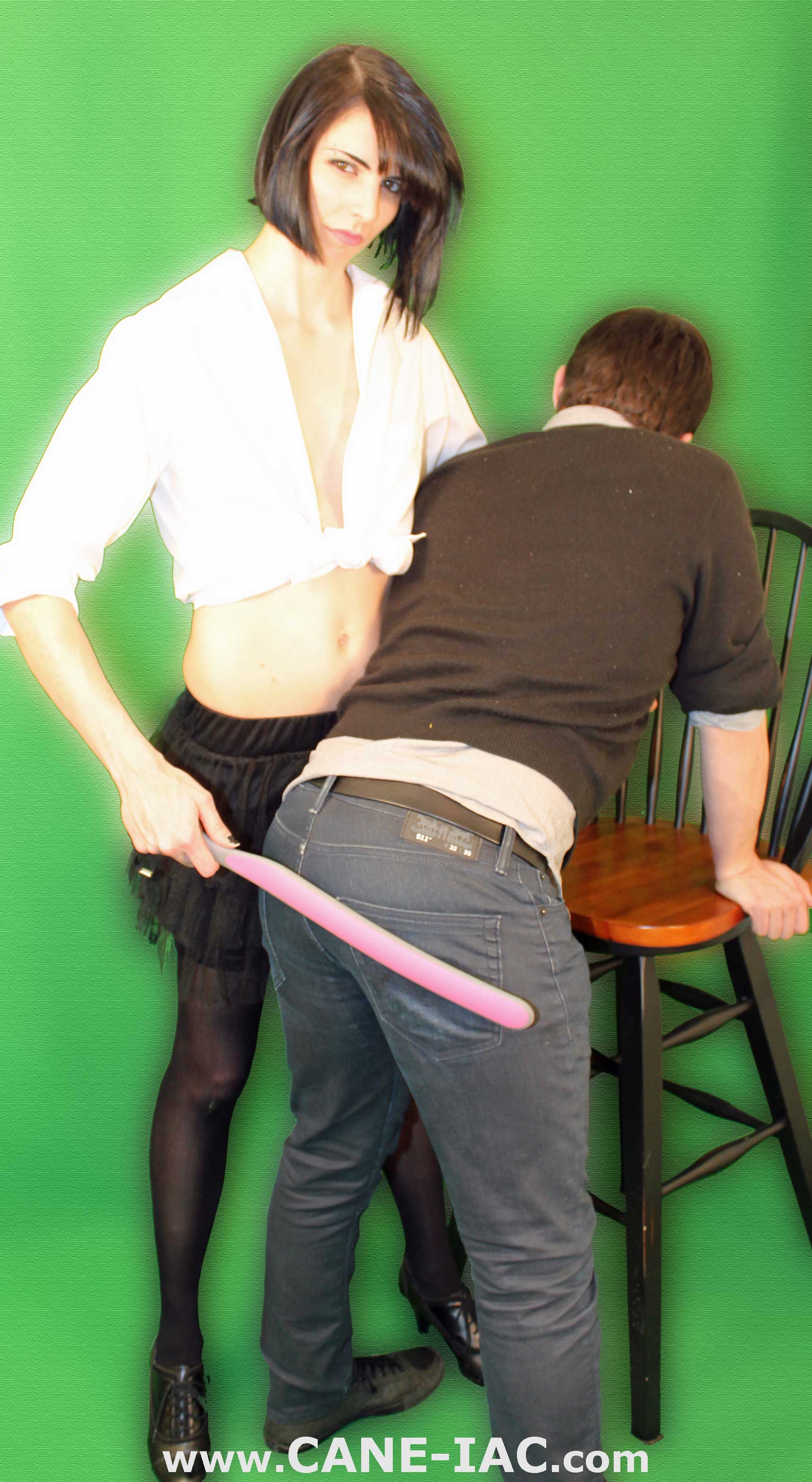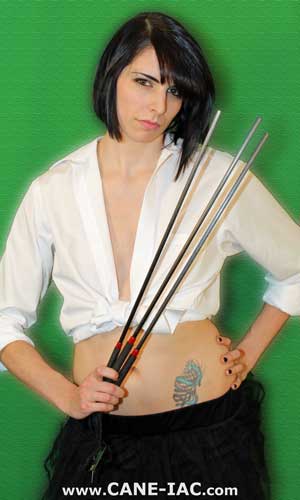 Heart Evil Stick Pink Sweat Scrapper Carbon Fiber Cane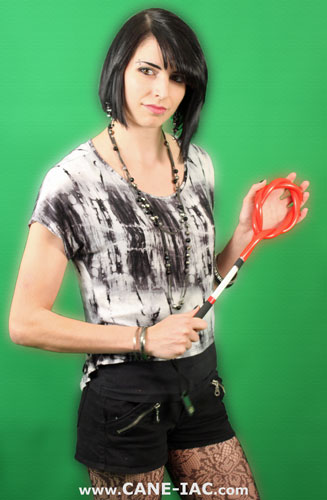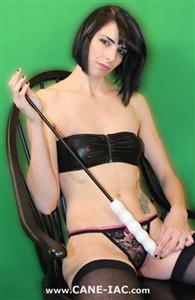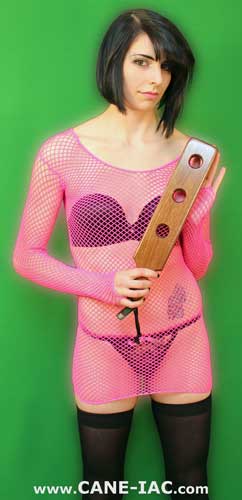 Nasty Red Head Impaler SR Walnut 3 Holed Paddle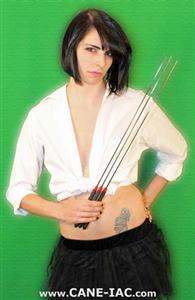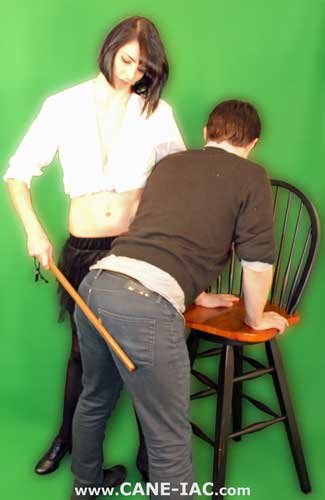 Natural 24" Evil Stick Walnut Lightning Bolt Double Headed 12" Evil Stick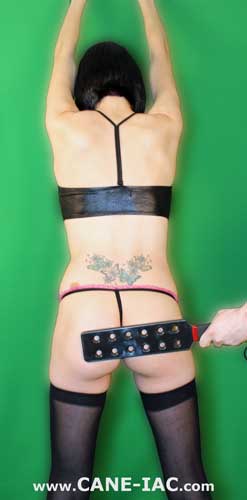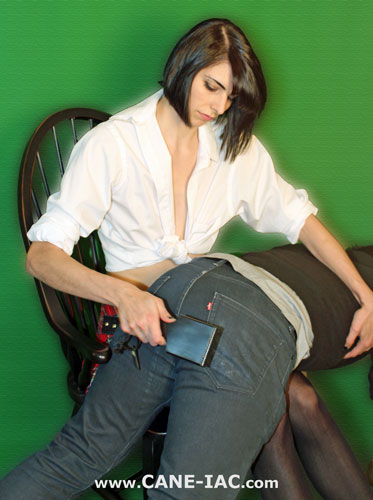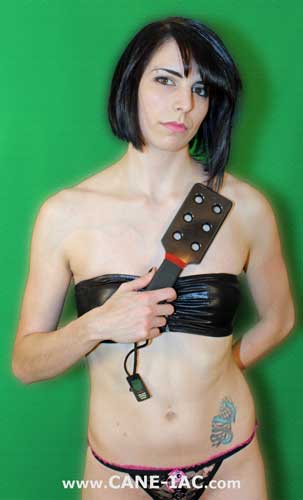 Black Spencer Sr Black Little Guy Black Spencer Jr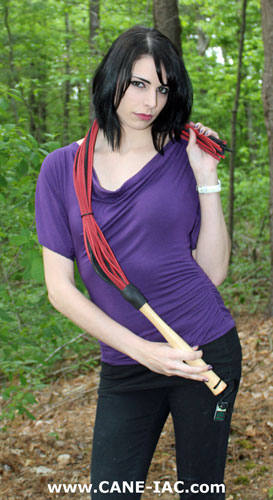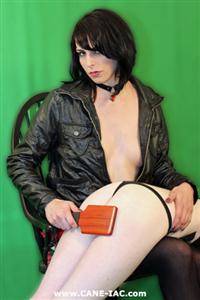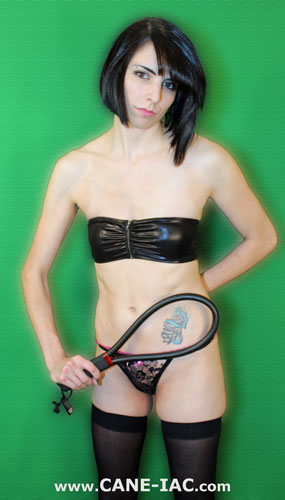 Magnum Martinet Mighty Might Blackout Rubber Loop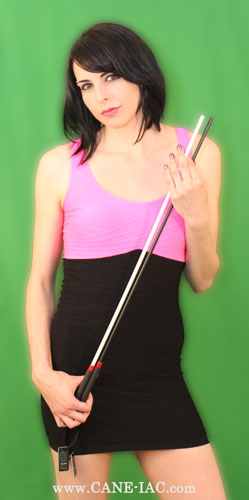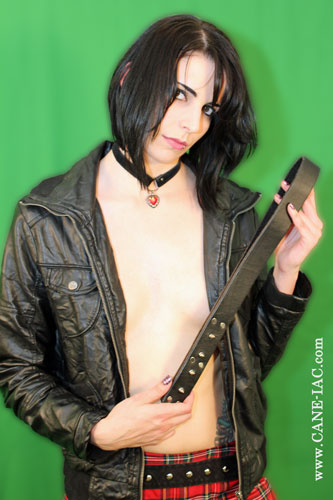 Delrin JR Canes Red Rubber Dragon Tail Spiked Leather Loop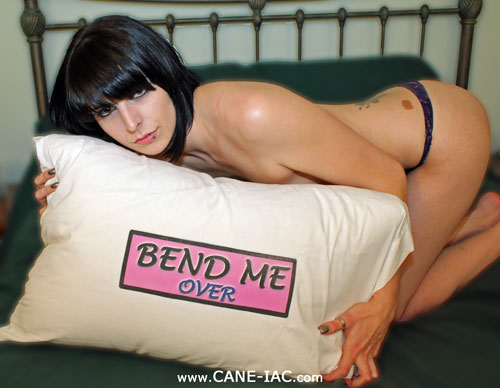 Bend

Me Over Pillow Case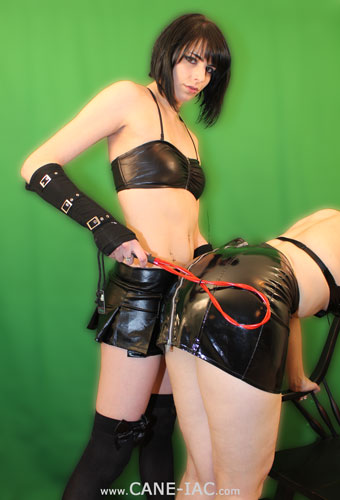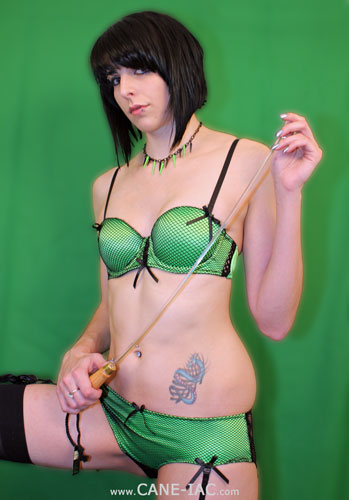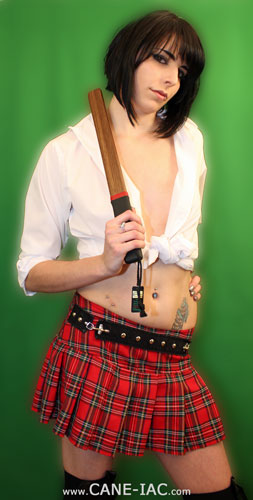 Lucifer Loop Misery Cane Walnut Paddle
Curse of Dana Strap
Doublewide Paddle Hardwood Paddle
Bit Gag Blue Paddle with Hole
Multi-Colored 3 Strand Loop Red Hand Riding Crop
Pine Paddle Delrin Twisted Loop SR Impaler SR

Striper Paddle Collar & Cuff Set Dragon Tail Whip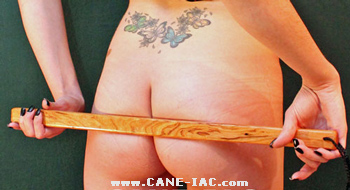 Cherry Naughty Stick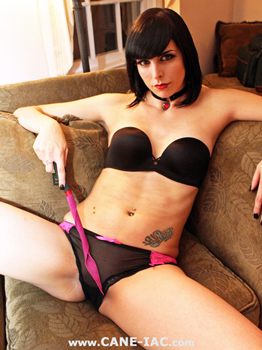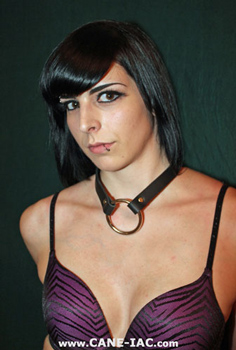 Dragon Tongue Whip O Ring Collar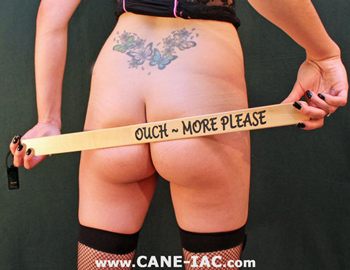 OUCH ~ MORE PLEASE Naughty Stick

If you're a fan of Sasha and enjoy her photos as much as we do check back often. We will be adding new photos very soon.
PLAY SAFE, ALL WAYS, ALWAYS




Copyright 2016 ~ All Rights Reserved