My Shopping Cart
Qty
Item
Total
$0.00
CANE-IAC is Verified
Safe & Secure
Follow CANE-IAC on Twitter ~

Learn

about new & sale items and receive special offers
-
click here

Tr
a

veling the United States

Connecticut


I am Sarah Gregory, a well known spanking model as well as professional disciplinarian.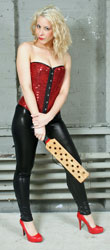 I am based in Connecticut, but travel frequently to California and other parts of the
country. Through many years as a bottom to some of the most talented tops and disciplinarians, I have developed skill and talent as a top. I enjoy spanking naughty boys and girls of consensual age for real life discipline, role play scenarios, and therapeutic spanking sessions. I have experience and skill when it comes to canes, straps, floggers, paddles, and pretty much any OTK implement. You can find my travel schedule on my website.


Visit me at

:
www.MissSarahGregory.com
Michigan / Detroit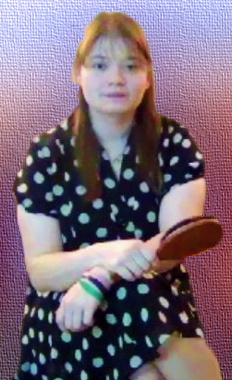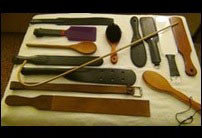 Looking

for accountability?
Well you found it. I am a Professional disciplinarian in th
e metro Detroit area and
available for ongoing mentor-ship/life coaching, one time
sessions, or role play.
"Mom and Pop" sessions are also available.
This is real spanking! Real implements, pain, and sometimes bruises.
Non-Sexual, Safe/Sane.
I also travel quite a bit offering disciplinary/role play spankings throughout the US. If you do not see me traveling to your area, please feel free to message
me with your location, and I can keep

you up to date with any travel plans that bring me close to you. You may
contact me through my website, please mention seeing me on Cane-Iac. Thank you, Ms. Evelyn
Visit me at:
www.MichiganDiscipline.com
New York City
For information on how you can be part of our Professional Disciplinarians listing, email us at CaneMaster@cane-iac.com
Cane-Iac does its best to screen all of the professionals to bring you a reference of reliable, trusted, serious and experienced professional disciplinarians.
Cane-Iac and its owners, agents and suppliers assume no responsibility for the actions or circumstances of any and all of the Professional Disciplinarians. You assume all risk and responsibility of your interaction with them.
Copyright 2015 ~ All Rights Reserved