My Shopping Cart
Qty
Item
Total
$0.00
CANE-IAC is Verified
Safe & Secure
Follow CANE-IAC on Twitter ~

Learn

about new & sale items and receive special offers
-
click here

Cane-Iac's Meet the Professional Disciplinarians

We get asked all the time if we know of professional disciplinarians that truly understand how to give serious spankings, domestic discipline and respect limits and boundaries. If you have the need, desire and courage to bend over before a true professional, one who takes pride in their craft, then this list is for you.


Check back often as we will be adding more professionals soon.




Tr
a

veling the United States
I am professional disciplinarian, based in Las Vegas,

Nevada

, and traveling extensively throughout the U.S. and Europe. Specializi
ng in
traditional OTK, discipline, punishment and
advanced role-play
scenarios - with an affinity for the cane.

Visit
m
e at:
www.MsDanaKane.com
--------------------------------------------------
I am an experienced

professional

, mentor and disciplinarian. I use various forms of discipline to assist naughty boys and girls to curb unwanted behaviors and/or improve sour attitudes. Complete individual discipline programs, as well as occasional attitude adjustments are available real time, by appointment only. I am experienced in role play and therapeutic spankings as well. Online consultations can also be arranged.

If you have trouble with motivation, need a firm hand to assist with goal setting and
accountability, or just need some caring correction over a maternal-type lap, drop me a note. Your Auntie Rhi knows best......

Visit me at:
www.Your-Auntie-Rhi.com
--------------------------------------------------
California / San Francisco
Naturally Gin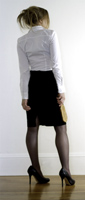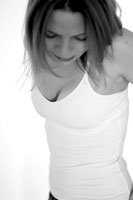 My name is Gin. I offer traditional spanking services to both men &
women who are in need of strict discipline. I consider myself to be a natural spanker. I don't do glitz and glamor or overly staged scenes - just good old fashioned discipline. For me nothing could be more natural than a naughty bare bottom over my knee and I have yet to find anything that compares to the immense satisfaction I get from spanking. It is my love,

obsession and art.

Visit me at: www.NaturallyGin.com
--------------------------------------------------
California / San Francisco
Miss Amanda Black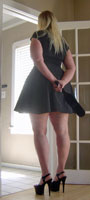 " I will excuse no one for any reason from receiving a prolonged over the knee bare bottom spanking"
I stand 6'3" in my stocking feet and 7' in heels. I will tower over any man, any size, anywhere and once over my knee your hands and feet will not touch the ground and you will quickly realize there is no hope for escape. I am a POWERFUL, STRONG "Real Life Disciplinarian " and I am completely convinced in the effectiveness OTK spanking has on the male & female psyche and that regular and ritual OTK spanking is an absolute must in maintaining discipline in any household, including my own. My tall, strong massive physique was built for disciplining adult children needing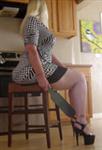 correction. I stand almost 7' in heels and can easily manhandle any man of any size and can easily hold you in place. You can kick your tiny little feet and squirmed all you want, you will not escape my grasp. Your pitiful little cries will only excite me and when finished, I will pick you up and hold you tight in my lap. I specialize in" Real" to playful domestic discipline, correction and behavior modification.
Role Play Is My Specialty! (Auntie , Teacher, Mommy, Governess fantasy
fulfillment, correction and good old-fashioned discipline using my bare hand, paddle, strap or hairbrush. I am the real deal and you will learn your lesson quickly with me that I assure, I invite you to contact me via e-mail to be considered. OTKBBSpank@yahoo.com
--------------------------------------------------

Connecticut


I am Sarah Gregory, a well known spanking model as well as professional disciplinarian.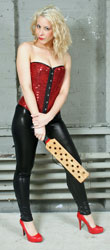 I am based in Connecticut, but travel frequently to California and other parts of the
country. Through many years as a bottom to some of the most talented tops and disciplinarians, I have developed skill and talent as a top. I enjoy spanking naughty boys and girls of consensual age for real life discipline, role play scenarios, and therapeutic spanking sessions. I have experience and skill when it comes to canes, straps, floggers, paddles, and pretty much any OTK implement. You can find my travel schedule on my website.


Visit me at

:
www.MissSarahGregory.com
--------------------------------------------------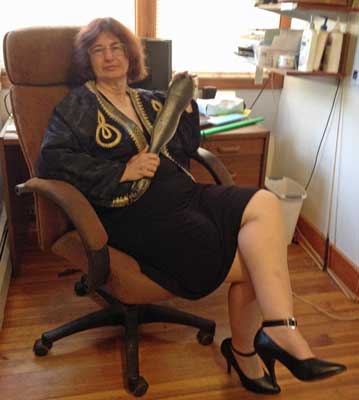 I am Ms.E. I have close to 20 years of experience as a disciplinarian.
As a former teacher, you will find me accustomed to working with individuals who need correction and guidance to achieve a balanced life. I am intelligent and well-educated. I have significant coursework in psychology, counseling,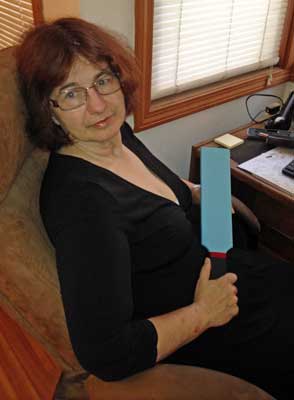 business, and law, in addition to my educational credentials. I will use my knowledge to help you grow to become the best you can be. This may be difficult at times, but it is worth the effort.
We will start our journey with an initial meeting to gt to know each other at a local diner. Then, perhaps, you will be invited to my home-based office. We will address your behavior at length and then administer corrective/deterrent actions. Take warning: fussing and squirming will not lessen the correction you are about to receive.
You
may contact me at
ctbehaviorist@aol.com
. Thoughtful, well-written emails, please, if you wish to capture my attention."
--------------------------------------------------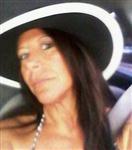 I may be a Mistress, but I am also a very experienced disciplinarian who LOVES to spank naughty boys and girls. I am located close to the downtown Orlando area with a two room amazing private play space, and have over 10 years experience dealing with you dirty boys and girls that are in need of a spanking, whether correctional, discipline, punishment, a maintenance spanking,
role play spanking (no long drawn out scripts however), or just someone wanting
a good old fashioned spanking.
My favorite, of course, is either an OTK or over my lap sensual spanking, but I am quite seasoned at delivering a sound harsh spanking to

address what you did to merit me placing you over my knee. I utilize recitations, confessions, lecturing and corner time to "reflect" on why you are being spanked so that our encounter will resonate that you were naughty and so that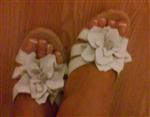 you will learn to behave appropriately (until your next mistake!).
Visit my site for more information and contact information. I have every implement imaginable from my hand (and I have a heavy hand as I am quite strong) to an abundance of wooden spoons, straps, paddles, canes, crops, floggers, etc...YOU NEED TO BE PUNISHED. YOU NEED TO BE CORRECTED, YOU NEED TO BE SPANKED
AND
I AM THE
ONE
.
--------------------------------------------------
Illinois / Chicago
Miss Simone

A true disciplinarian of over 20 years, I have corrected many adult naughty boys and girls who chose to misbehave. Located in Chicago and Saint Louis, I also travel. I offer grow

n men and women the motivation,

support and catharsis

of female-led domestic discipline. My services range from OTK maintenance to severe thrashings. In addition to discipline, I offer creative punishment, role play, and other fetishes. My favorite implement is my hand followed by the hairbrush and cane. My rates are firm but sensitive to those who seek ongoing reinforcement.
--------------------------------------------------
Kansas - Missouri / Kansas City
Portia Spanks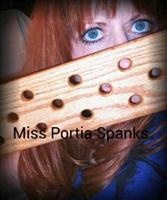 My name is Portia Spanks and I practice the exquisite art of spanking in the Kansas City metro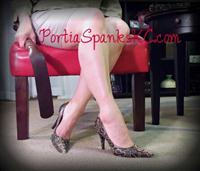 area (Kansas and Missouri). I specialize in OTK discipline and punishment for the spanking purist
as well as
those who like to incorporate additional kink and other fetishes. I utilize a plethora of wonderful
implements, including my bare hand, of course, for both beginners or conditioned bottoms alike. I can also deliver severe corporeal punishment with a smile. I adore role play and though most of my clients are male, I am an equal opportunity Spanker!
--------------------------------------------------
Michigan / Detroit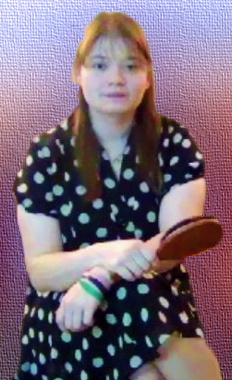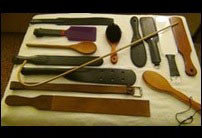 Looking

for accountability?
Well you found it. I am a Professional disciplinarian in th
e metro Detroit area and
available for ongoing mentor-ship/life coaching, one time
sessions, or role play.
"Mom and Pop" sessions are also available.
This is real spanking! Real implements, pain, and sometimes bruises.
Non-Sexual, Safe/Sane.
I also travel quite a bit offering disciplinary/role play spankings throughout the US. If you do not see me traveling to your area, please feel free to message
me with your location, and I can keep

you up to date with any travel plans that bring me close to you. You may
contact me through my website, please mention seeing me on Cane-Iac. Thank you, Ms. Evelyn
Visit me at:
www.MichiganDiscipline.com
--------------------------------------------------
My name is Lady Aries. I am located in Las Vegas but I tend to travel quite a bit. I specialize in OTK spankings either with paddles, straps, or my bare hand. I especially love to work with canes. Anything from mild to severe. I enjoy role play or dressing up to achieve your fantasies and goals. I am very open minded and would love to hear

from you really naughty boys and girls. Message me if you are headed to Vegas or
message me to see where I am traveling next. Sometimes my travel dates depend on where I am needed.

--------------------------------------------------

New Jersey

Alice Morningstar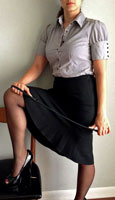 I am Alice Morningstar a professional disciplinarian. I love spanking. I love discipline. As a naturally
dominant woman, I have always found personal discipline to be of the utmost
importance. Being able to bring self-control and absolution to my clients is something I find fulfilling on so many levels. Though based out of New Jersey, I also travel regularly to Philadelphia and Washington DC.


So, Have you Misbehaved? Do you need discipline? Are you ready to accept your punishments? I look forward to hearing from you.

Visit me at: Alice Morningstar

--------------------------------------------------
New York City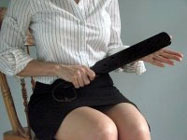 I am Ms.

Marwood

and I am a worldly, intelligent, no-nonsense lady who addresses the behavioral problems of naughty boys of all (consenting) ages.

I take my

inspiration from a renowned, stern English governess of longstanding literary fame and believe in the expert application of all manner of traditional domestic corporal discipline as needed and /or deserved. I also provide long- or short-term proven, effective Life Coaching services incorporating corporal disciplinary "incentives".
--------------------------------------------------
Miss Lydia Lamour
I am Miss Lydia Lamour, Professional Disciplinarian and Mommy based in NYC. For over 10 years now, My firm hands have seen backsides from all over the country, and
nothing brings a smile to My face more than knowing that you are beginning to be on the path of righteous living, with your hands rubbing your sore bottom along the way. I am also available for ABDL sessions as I enjoy My natural maternal side and have all the needs necessary. I have a very large collection of spanking implements and more to ensure that you will feel My wrath and start your life anew, whether it be over My knees or bent over and tied down

.
Visit me at: www.StrictlyMissLydia.com
--------------------------------------------------
Miss Georgia Cane
My name is Georgia Cane. I am a six foot tall, fit, mature (fifties) black woman with an Ivy League degree and a strict, no nonsense, over-the-knee spanking disciplinarian.
My bare hand gets your attention, leaving your bottom pink and burning or as red and sore, as needed. When appropriate, I will spank you to tears - and then some - and when I bring out my strap, paddle, hairbrush or cane you'll understand the consequences of misbehaving.
I discipline for real life issues and excel in all types of role-play scenarios. I also offer long-term mentoring, counseling, and oversight sessions, in person or via phone.
All are welcome, from the novice to the experienced CP aficiondo.
--------------------------------------------------
Miss Natalie
Ever wonder what it would be like to be spanked beyond the fantasy? To indulge

y
our deep need for real, severe, authentic punishment?

I'm Miss Natalie, a "beyond-the-fantasy" spanking disciplinarian based out of Ne
w York City.
I take
disobedient, self-centered arrogant alpha men and turn them into perfectly obedient, sore-bottomed submissives.
I believe that old-fashioned, no-nonsense disciplinary spanking is the only certain antidote to the self-destructive naughty male ego.
So go ahead, take care of the naughty boy within. Connect with me today and you'll finally get the punishment you so richly deserve!

"The Spankings You Need, Not The Spankings You Want"
--------------------------------------------------
Pennsylvania / Philadelphia
Miss Lisa
I am a highly discreet Professional Domme, and Disciplinarian located in a suburb of Philadelphia. We can play in my dungeon, or in various domestic areas. I adore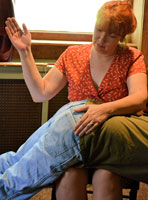 role play, and I have no problem with putting soap in a filthy mouth, smacking the face of a disrespectful boy, or spanking you in a pair of my panties. I tailor each session to the individual, to ensure satisfaction. I can spank to and through tears, and help you to explore your limits in a safe, clean, and inviting environment. I am nurturing, but do not let that fool you. You will be feeling the sting of my punishment for a long time after we have met. Come Play in My Dungeon, Miss Lisa
Visit me at:

www.StrictlyMissLisa.com
--------------------------------------------------
Mz Kim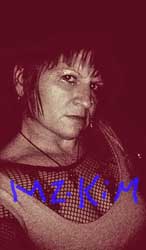 Hello.

My name is Mz Kim.

I am a red headed, curvy gal who originates from
Texas
, so I know a bit about
switches.

At 5' 1", don't let my stature make you think I can't handle a good OTK hand spanking or a hard
paddling.

I'll definitely get my point across!
I do role play with some of my clients and also, enjoy practicing other fetishes -- but that's for another time.
I am based out of the Reading/Lancaster/Allentown,
Pennsylvania
area.

Want to know more?
--------------------------------------------------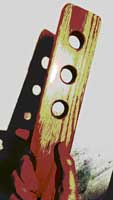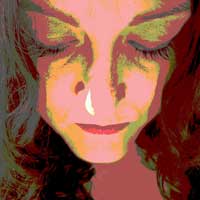 I'm Miss M, an English disciplinarian and former school mistress, now livin
g in
Southern Alberta. I offer discipline, correction and
spanking therapy to ladies and gentlemen who know they need it and to those who think they might. Based in Lethbridge but I am happy to travel with good notice.

Contact me at :

missm.otk@gmail.com



--------------------------------------------------
Toronto (Mississauga), Ontario, Canada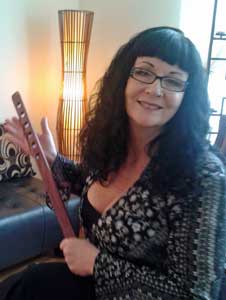 I am
Miss Betty Cocker and I have almost 25 years experience dishing out

uncompromising, traditional discipline (introductory to severe) to naughty boys in need of correction in a safe, clean and discreet domestic setting. I am a very
well-equipped
Domestic Discipline Specialist and OTK Spanking Expert.
--------------------------------------------------
United Kingdom
Miss Ophelia de Havilland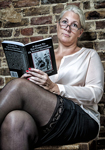 My name is Miss Ophelia de Havilland and I am a professional domestic disciplinarian residing in the United Kingdom. Having experienced spanking in the family home and

at board
ing school I have grown up with first hand expertise in the art of discipline.
I have a genuine love of prolonged traditional over the knee hand spanking, scissoring between the very long legs of my 6 foot tall frame (without my heels) if wriggling and squirming. I can use other implements on your bottom if my hand is too much for you to "bare" such as paddle, strap, tawse, hairbrush, bath brush and of course the obligatory old slipper.

I look forward to hearing from you. Miss Ophelia de Havilland


Visit me at:
www.opheliadehavilland.com

Visit my website to view my travel schedule
--------------------------------------------------
Spanking has been my interest for a very long time. It fascinates me.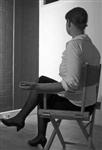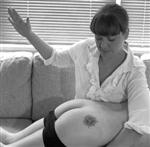 My name is Miss Isis, I am 36 years old and a professional Spanker / Disciplinarian from the Netherlands.
When you come to me you

will get the spanking you deserve, over my knees. I am in total control and I will make sure that you obey me completely.
After your punishment, you will be able to see the world in a brighter perspective. Your mind will be refreshed and open.
A good punishment will get you ready to deal with the world again.

My perspective on spanking is not the classical way you will find in a sado masochistic club. I am not a Mistress in leather or rubber clothing. My room is not filled with chains and leather handcuffs. I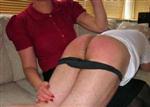 spank you in a domestic surrounding. I use household materials, as a brush, straightedge, cane, and of
course, my favorite, bare hands!
I will spank you in my own strict way, but I can also comfort you. Pure, the way I like
it.
-------------------------------------------------
Rose Cavendish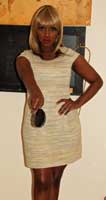 is a Disciplinarian from England. She has a sharp tongue and an even sharper sting to her hand. She firmly believes the best lessons are learnt on a well spanked bottom. And you will be hard pressed to find anyone more enthusiastic in setting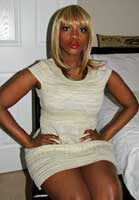 you straight.
She believes that we are all given rights but it is up to us to accept our responsibilities. And her responsibility is to see to it that naughty boys and girls of every age are taken
firmly in hand and shown the disciplinary benefits of a bare bottom spanking.
Miss Cavendish is available for sessions around London and England as she tours very frequently; please consult her website for more details.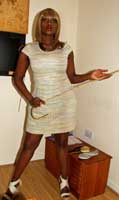 Some of the implements she enjoys using are:
- her sharp hands for a bare bottom spanking
- her sharp tongue and intellect to make you confess to your naughty ways
- soap to wash out the filth from your mouth
- Mason and Pearson hairbrush
- canes (especially when making you touch your toes)
If you know you have been naughty and your ways need correcting then email her at

rosecavendish@outlook.com
--------------------------------------------------
For information on how you can be part of our Professional Disciplinarians listing, email us at CaneMaster@cane-iac.com
Cane-Iac does its best to screen all of the professionals to bring you a reference of reliable, trusted, serious and experienced professional disciplinarians.
Cane-Iac and its owners, agents and suppliers assume no responsibility for the actions or circumstances of any and all of the Professional Disciplinarians. You assume all risk and responsibility of your interaction with them.
PLAY SAFE, ALL WAYS, ALWAYS
Copyright 2014 ~ All rights reserved.