This is a very powerful and hurtful rattan cane. A full 34

" long and 1/2" thick. We dye the

rattan red and trust us, when you are done using this cane, your bottoms bottom will be the same rosy red. You will feel its strength and supremacy as soon as you pick it up.
Click
HERE
to view.
NOW ONLY $21.99
---
Are you looking to a great rope-spanking toy? Well this is certainly it. At a

bout 20" long it gets a real nice whipping action but has a very soft touch. It is made with 1/2" poly braided rope that has an awesome soft feel to it. This rope whip can be used all over the body and is great for breast play.

Click HERE to view.
NOW ONLY $17.99
---
DELRIN MASTER'S CHOICE JR CANE
This is a great choice of a Delrin Cane. It has a very nice flex to it but is very firm. We think the JR Delrin Can

e is one of the best canes we offer. It has a feel and flex just like the Rattan Jr, it will last forever and it is very easy to keep clean and sanitized. Use care as this cane really packs a wallop. Click HERE to view. NOW ONLY $16.99

---
Crybaby Cry, this strap is brutal and will make even the strongest willed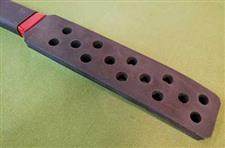 bottom cry like
a lit
tle baby and beg for mercy. Crybaby is made with premium rubber. It is 1/2" thick, 2" wide and 14" long. It features 14 holes, 1/2" in diameter. It stings like hell and because of its size it is especially good for OTK.
Click HERE to view.
NOW ONLY $19.99
---
Evil Devil Sticks, set of five, are brutal, 24", feel the burn. They are nice and thin, flexible and really sting when they s

trike. Want stripes, these will deliver. No need to swing hard, let the cane do the work. These rattan canes are approximately 3/16" thick and a nice 24" long.

Click HERE to view.
NOW ONLY $14.99
---
A great price at
ONLY $37.99
---
We love this Split Razor Strap and it features as really nice flogger style handle. The

overall length is 22". It has a 8" handle that is both black and red and the leather strap is 14" and 3" wide with two 1 1/2" leather strips.
There is extreme and then there is "

EXTREME

" and this paddle is just that, extreme. It is impressive f

or sure. This is an aluminum paddle, featuring 31 holes. It measures 17" long including the 5 1/2" wooden handle. It is 2" wide and is only 1/4" thick. A real Butt Bruiser.
A great price at

ONLY $29.99
---
---
All items are 100% Satisfaction Guaranteed or full refund.
Totally DISCREET Packaging