All of our CANE-IAC canes are made of hand-selected, first quality rattan reed. Rattan is a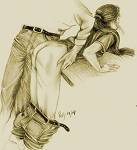 natural plant, so no individual cane is exactly like another. In particular, some dry straighter than others - and some have what look like dirt marks, but are in fact markings on the rattan itself. Each piece of rattan is inspected and cut to the appropriate length, soaked and left to air-dry in a special jig to ensure straightness. Approximately 30% of the rattan is discarded because of imperfections, blemishes or knots; only the very best is used. Our rattan reed is then hand sanded to a nice smoothness, saturated in pure linseed oil, then hung to air dry and finished with a light coat of tung oil. Handles are made of assorted materials depending on the cane and its use. Finally, each cane is quality inspected.
We trust you will enjoy your newest addition to your toy bag, whatever your preference, Collector, Spanking, OTK-Over The Knee, Behavior Correction / Modification, Domestic Discipline, Corporal Punishment-CP and whether you are a Spanker and Spankee, Dominant, submissive, Master, Mistress, Dom, Domme, etc.
Safe Play
CANE-IAC canes are sold as novelties and to collectors of traditional discipline implements. Please use your cane responsibly. Strokes from a rattan cane, wooden paddle or any of our spanking toys can be particularly painful – caution is encouraged and advised. Always use a safe word in your play and be aware of the force you are using when striking with your cane. Take time to review safe caning practices prior to using your cane. CANE-IAC cannot be responsible for your use of these toys. You will find that soft light strokes go a long, long way. Enjoy and let the "Canings Begin".
Our thanks to Patty for permitting us to use her wonderful artwork. You can visit her and see more of her work