My Shopping Cart
Qty
Item
Total
$0.00
CANE-IAC is Verified
Safe & Secure
Cane-Iac's Meet the Professional Disciplinarians
Check back often as we will be adding more professionals soon.
"My name is Miss Erin Faye, Disciplinarian located in Las Vegas, NV 5'3 of bottom-paddling fury... small yet deadly, do not underestimate me!
I am the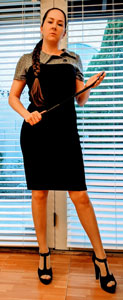 sweet yet sadistic girl-next-door that will help you correct transgressions and take accountability in your life. Spanking for discipline and spanking for fun are equally enjoyed; I also enjoy providing some good old fashioned cathartic spanking therapy.
My favorite spanking implements would be my bare hand, bath brushes, leather paddles, the cane, oh, and the leather tawse..... Tawsing hands (and foot bastinado) holds a special place in my heart. Your naughty hands will be hurting even more with written lines issued for disobedience with Miss Faye. I also enjoy a bit of other fun fetishes... bondage, cbt, wax play, pet play, etc...
Are you looking for some domination/submission play?
Be still My beating heart....
You are looking for a safe place to give in to this *need* to be dominated, and to fulfill -Her- every sadistic desire.... that is truly beautiful.
And at My feet, you will find that safe place.
Open to seeing men and women , all orientations are welcomed. Discipline is my driving passion in my life, and I look forward to sharing my passion with you! So, will you be next?"
--------------------------------------------------
Cane-Iac does its best to screen all of the professionals to bring you a reference of reliable, trusted, serious and experienced professional disciplinarians.
Cane-Iac and its owners, agents and suppliers assume no responsibility for the actions or circumstances of any and all of the Professional Disciplinarians. You assume all risk and responsibility of your interaction with them.
PLAY SAFE, ALL WAYS, ALWAYS
Copyright 2020 ~ All Rights Reserved